Dave Grohl Wants Adele Collaboration for Next Foo Fighters Album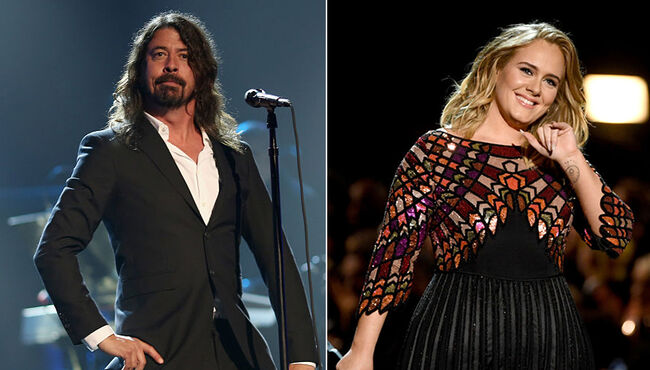 Dave Grohl isn't giving up hope that Adele will agree/have time to appear on the next Foo Fighters album.
The former Nirvana drummer says he wanted Adele to sing on the Foo Fighters' 2017 LP, Concrete and Gold, but it didn't work out. There were even rumors that the British singer provided uncredited background vocals on the album, but Grohl says that's not true.
"Maybe next time," he tells the U.K.'s RadioX of his hopes for a collaboration, before explaining how significant a figure Adele is in his family.
"[My daughter] Violet would listen to Adele's records and just imitate and that's how she learned to sing," Grohl revealed. "At home there are instruments everywhere and her voice — she was born with it. Everybody loves Adele."
Both of Grohl's daughters have shown off their musical affinity alongside their father in recent years. Violet, 12, sang a stirring rendition Adele's "When We Were Young" with her dad at a May benefit for the Benioff UCSF Children's Hospital in Oakland, California, earlier this year.
Grohl's younger daughter, Harper (now 9), joined the Foo Fighters on stage during the band's U.S. tour last summer to play drums on "We Will Rock You."
The Foo Fighters are about to wrap up their European tour. The band will then return for another run of dates in North America in July, September and October.
Get all the tour dates here.
Photo: Getty Images