Tom Morello Says There's An Album's Worth Of Unreleased Audioslave Music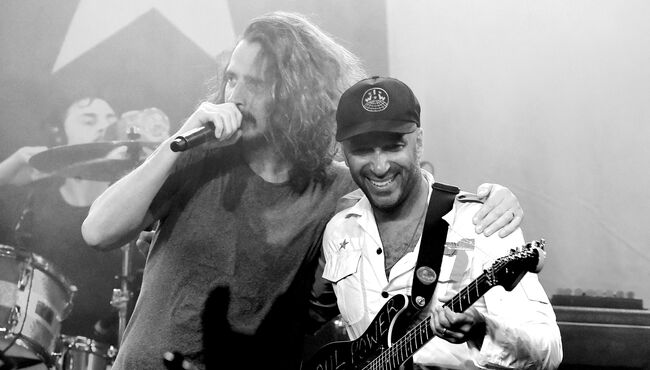 There's a lot of unreleased Audioslave music that may someday see the light of day.
Guitarist Tom Morello says the band probably had enough ideas for an entire new album before Chris Cornell's death in 2017.
Morello has previously revealed that he and Cornell had planned on touring with Audioslave again and making a new album. But apparently the band was already well into the writing process thanks to years of prior work.
The Rage Against The Machine co-founder was asked during a recent forum in New York City whether fans would ever get to hear material from Audioslave's "vault."
"There certainly is a chance," Morello answered. "There are not plans for that currently to be released, but there's no impediments to [it] being released. It's really good, too. Some of the choices of what songs were on what records were almost arbitrary. There's a few of my favorite Audioslave songs that just never fully saw the light of day, so hopefully they'll come out some way."
Morello could be referring to a song called "Sleight of Hand," which was performed live by the band but never released. Morello told Kerrang! that the song was shelved from Audioslave's 2006 album, Revelations, because bassist Tim Commerford "thought it sounded like a Danzig song" and got into an argument with a record label executive about it.
There's good reason for Morello to be optimistic that the unreleased tracks will one day make their way out. After all, we live in a world in which Jimi Hendrix's estate released three albums of previously unheard material between 2010 and 2018.
Cornell's family, too, has been hands-on in managing the late-icon's estate, releasing a career-spanning box set of his music last year.
Morello recently wrapped up a U.S. tour of his new solo album, The Atlas Underground. You can get his remaining tour dates here.
Photo: Getty Images