A Guy Tries to Cook a Rattlesnake . . . and Winds Up Blacked Out in the Hos
A guy in Arizona caught a rattlesnake in his yard earlier this month and planned to cook it . . . but it BIT HIM twice. He was rushed to the hospital where doctors saved his life . . . but the treatment is so hardcore that he was blacked out for FIVE DAYS. Now he's finally home and still recovering.
There are many, many reasons why I'd never try to cook a RATTLESNAKE for dinner . . . but this might be number one.
A 48-year-old guy named Victor Pratt in Coolidge, Arizona was hosting his child's birthday party earlier this month when a rattlesnake showed up in the yard. And Victor started showing off by GRABBING IT . . . so he could cook it on the grill.
But when he posed for pictures wrestling with the snake, he lost his grip on its head . . . and it BIT him twice.
He was rushed to the hospital, where he immediately got treatment . . . and it's a good thing he did, because after about a half hour more, he would've DIED.
The treatment was so hardcore that Victor was BLACKED OUT in the hospital for five days.
Now he's home recovering . . . and he says he learned his lesson. Quote, "Ain't gonna play with snakes no more."
(Here are a few photos of him with the snake . . . and then the aftermath in the hospital.)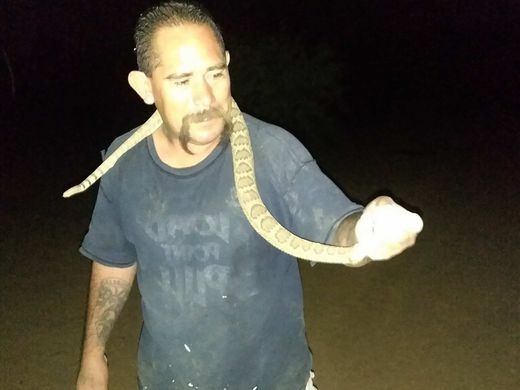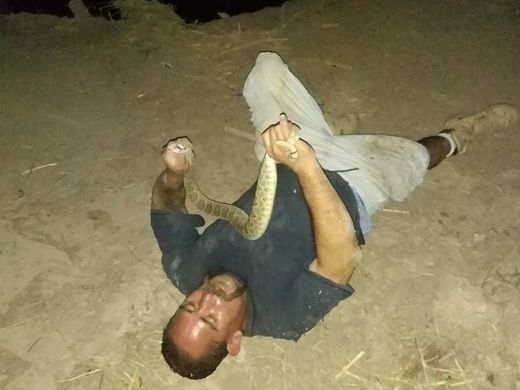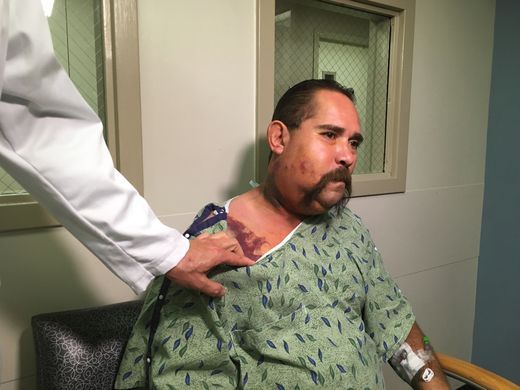 IMPORTANT LEGAL NOTICE ABOUT THESE IMAGES: All images (each, an "Image") are the property of their respective copyright owners and are archived here for editorial purposes only. No Image may be used, shared or reproduced for any purpose without the specific written permission of its copyright owner. No license to use, share or reproduce any Image is granted by us and any unauthorized use, dissemination or reproduction of an Image is at your own risk. You hereby indemnify Wise Brother Media, Inc. ("WBM") and its shareholders, directors, officers, employees, agents and other representatives from any and all loss, cost, damage, liability and expense (including, without limitation, attorneys fees and costs) arising out of, in connection with or related to the unauthorized use, dissemination or reproduction of any Image.
Originally posted on September 19th, 2017

Drew
Want to know more about Drew? Get their official bio, social pages & articles!