Groom Jumped Into a River in His Suit to Save a Kid from Drowning
A couple in Canada was taking some wedding photos after their ceremony last Friday when the groom saw a little kid fall in a river. So he jumped down in his SUIT and saved him.
A couple named Clayton and Brittany Cook got married in Ontario, Canada last Friday. (We're not sure how old they are, but they look like they're in their late 20s.)
Then after the ceremony, they went to a park to take some wedding photos next to a river. And while they were there, Clayton saw a little kid fall in the water and go under.
Brittany was doing some solo shots with the wedding photographer. And by the time she looked over, Clayton had already jumped down IN HIS SUIT to save the kid.
He pulled him out of the river. And now one of the shots their photographer got is blowing up on Facebook. The kid looks about four or five. Apparently his friends pushed him in.
Brittany says she was confused at first, and didn't know why Clayton would have jumped in the water in his suit. But he's a great guy . . . so when she found out why he did it, she wasn't surprised.
(CTV News)
(Here's the photo.)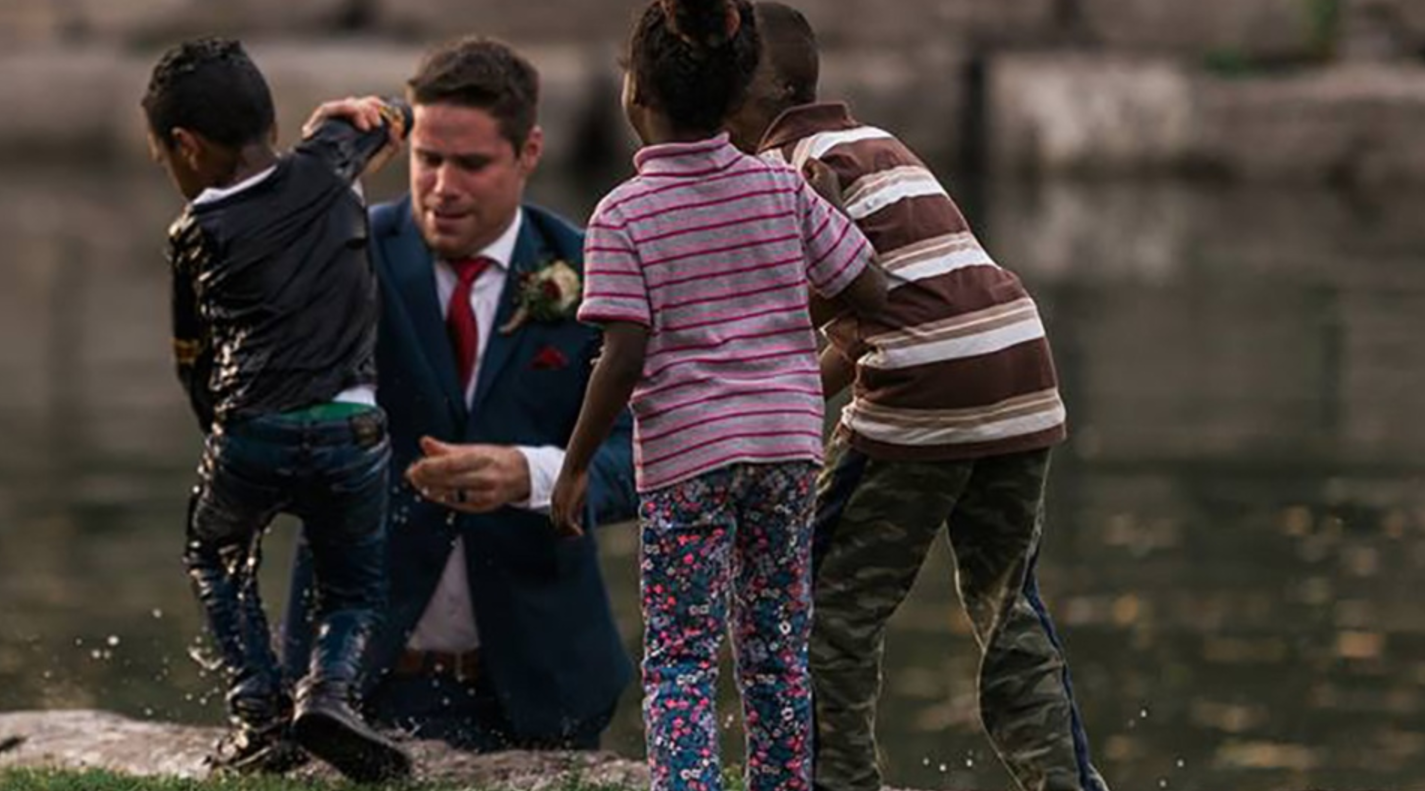 IMPORTANT LEGAL NOTICE ABOUT THESE IMAGES: All images (each, an "Image") are the property of their respective copyright owners and are archived here for editorial purposes only. No Image may be used, shared or reproduced for any purpose without the specific written permission of its copyright owner. No license to use, share or reproduce any Image is granted by us and any unauthorized use, dissemination or reproduction of an Image is at your own risk. You hereby indemnify Wise Brother Media, Inc. ("WBM") and its shareholders, directors, officers, employees, agents and other representatives from any and all loss, cost, damage, liability and expense (including, without limitation, attorneys fees and costs) arising out of, in connection with or related to the unauthorized use, dissemination or reproduction of any Image.
Originally posted on September 27th, 2017

Drew
Want to know more about Drew? Get their official bio, social pages & articles!