A HS Football Player W/ Cerebral Palsy Scored an 80-Yard Touchdown
HIGHLIGHTS: A high school football player in Virginia with cerebral palsy got into his team's game on Friday. And when he got the ball, the other team didn't tackle him . . . they helped cheer him on as he incredibly ran 80 yards without his crutches and scored a touchdown.
FULL STORY: Just when you think today's kids are going to be poisoned by all of the horrible things going on in the world, they pull together and do something like THIS.
There's a senior at Atlee High School in Mechanicsville, Virginia named Sepp Shirley. He has cerebral palsy and he has trouble walking without his crutches, but he LOVES football and he's on Atlee's team.
They were playing Varina High School from Henrico, Virginia on Friday, and Sepp's coach put him in the game as a running back. And Sepp and his dad had the coach pass along the message that the kids on the other team could TACKLE him.
But when the quarterback handed Sepp the ball, the kids on the other team DIDN'T. Instead, they joined his teammates in cheering for him as he incredibly ran 80 yards down the field, without his crutches, and scored a touchdown.
Varina's coach says, quote, "The definition of physical and mental toughness is Sepp marching 80 yards. It's the toughest 80-yard run I've ever witnessed, I'll tell you that." (Unfortunately, the game was a blowout, with Atlee losing 21-63. But does that really matter?)
(Here's a picture of Sepp on the field with his crutches.)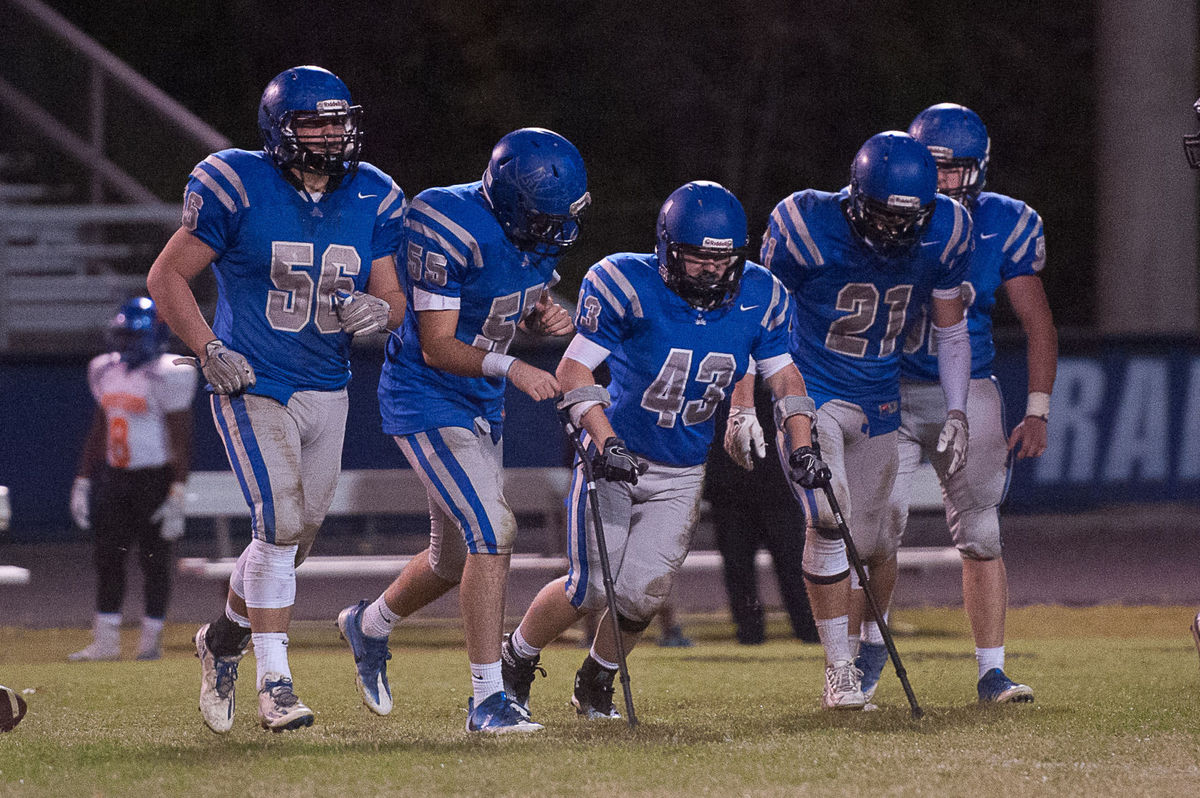 (And you can see a video of his touchdown by searching for "Atlee Sepp" on YouTube.)
IMPORTANT LEGAL NOTICE ABOUT THESE IMAGES: All images (each, an "Image") are the property of their respective copyright owners and are archived here for editorial purposes only. No Image may be used, shared or reproduced for any purpose without the specific written permission of its copyright owner. No license to use, share or reproduce any Image is granted by us and any unauthorized use, dissemination or reproduction of an Image is at your own risk. You hereby indemnify Wise Brother Media, Inc. ("WBM") and its shareholders, directors, officers, employees, agents and other representatives from any and all loss, cost, damage, liability and expense (including, without limitation, attorneys fees and costs) arising out of, in connection with or related to the unauthorized use, dissemination or reproduction of any Image.

Drew
Want to know more about Drew? Get their official bio, social pages & articles!