Staples Empl Wears Blackface for Halloween..Goes Over Like a Lead Balloon
A Staples in California is getting a lot of heat after one of their employees dressed in a BLACKFACE Halloween costume over the weekend. She said she was dressed as a spa guest and it was a mud mask . . . but after people complained, she took it off and Staples issued an apology.
I'm thinking this Staples store ISN'T going to have its employees dress up next Halloween.
A Staples in Pleasant Hill, California is getting a ton of heat after one of its employees wore a costume over the weekend that sure looked like BLACKFACE.
Apparently the woman told people she was a "spa guest" and it was a mud mask. She had curlers in her hair and a shower cap to complete the costume . . . but that's not exactly clear when you're looking at her.
And it didn't help that the managers told people they thought she was dressed as a Sharpie.
So after a bunch of people complained, Staples issued a statement saying two things. One: She wasn't REALLY one of their employees, she works for Hewlett-Packard and was working in the store promoting their items.
And two, quote, "While it was unintentional, it was still inappropriate . . . [and she] immediately removed the costume."
(Here's the picture.)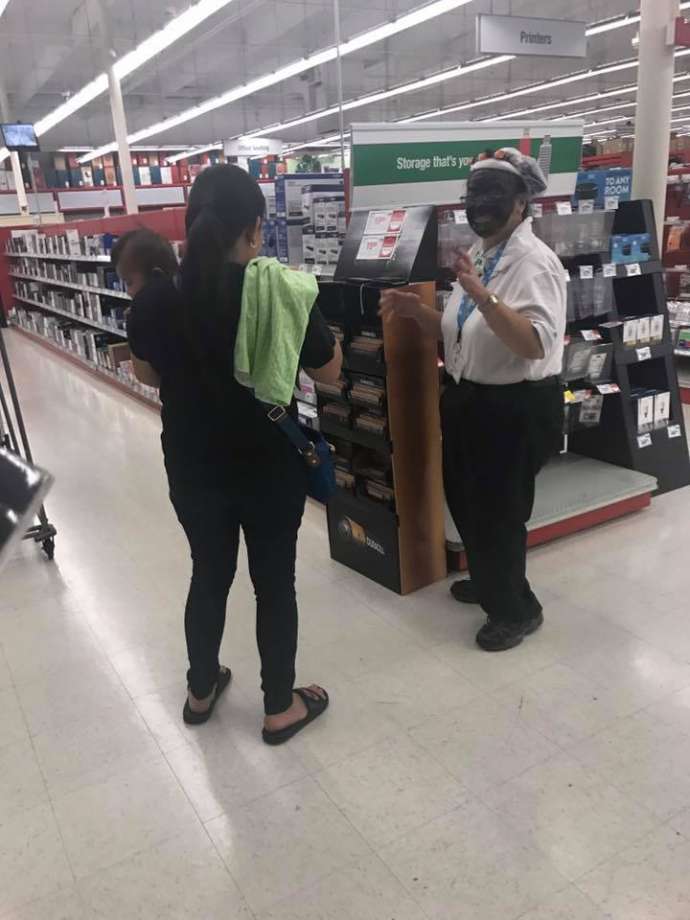 IMPORTANT LEGAL NOTICE ABOUT THESE IMAGES: All images (each, an "Image") are the property of their respective copyright owners and are archived here for editorial purposes only. No Image may be used, shared or reproduced for any purpose without the specific written permission of its copyright owner. No license to use, share or reproduce any Image is granted by us and any unauthorized use, dissemination or reproduction of an Image is at your own risk. You hereby indemnify Wise Brother Media, Inc. ("WBM") and its shareholders, directors, officers, employees, agents and other representatives from any and all loss, cost, damage, liability and expense (including, without limitation, attorneys fees and costs) arising out of, in connection with or related to the unauthorized use, dissemination or reproduction of any Image.

Drew
Want to know more about Drew? Get their official bio, social pages & articles!