A Bank Robber Is Caught After He Stops During His Getaway to Do an On-Camer
A guy in Georgia stopped in between two bank robberies last week . . . to give an interview to a TV reporter who was doing a story on an intersection with a lot of traffic. The cops used that footage to track him down and arrest him.
When a TV reporter got assigned to do a THRILLING and HARD HITTING story about some random intersection in an Atlanta suburb with a lot of traffic, I guarantee she had NO idea just how important it would be.
A reporter from the CBS affiliate in Atlanta named Ashley Thompson was out near the intersection in Lawrenceville, Georgia last week looking for people to interview about all the traffic at the intersection.
A 24-year-old guy named Eric Rivers walked past and she asked him if he wanted to talk about it. He said yes, and he gave an interview on camera.
Here's what Ashley didn't know: Eric had just ROBBED a bank. And after the interview, he went and robbed ANOTHER one.
The staff at the first bank saw him go toward the CBS news van, and they told the cops. They reviewed the interviews that Ashley did, they spotted Eric in the footage, and then they tracked him down and arrested him.
(Here's a screenshot from his interview.)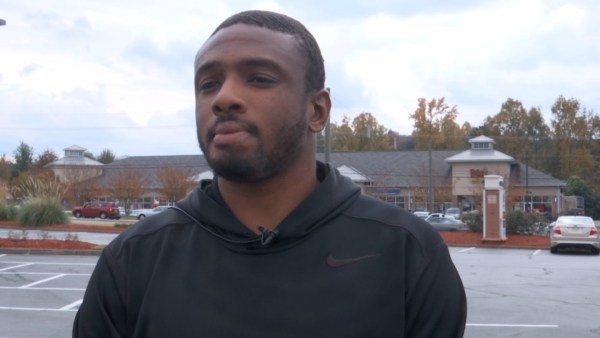 IMPORTANT LEGAL NOTICE ABOUT THESE IMAGES: All images (each, an "Image") are the property of their respective copyright owners and are archived here for editorial purposes only. No Image may be used, shared or reproduced for any purpose without the specific written permission of its copyright owner. No license to use, share or reproduce any Image is granted by us and any unauthorized use, dissemination or reproduction of an Image is at your own risk. You hereby indemnify Wise Brother Media, Inc. ("WBM") and its shareholders, directors, officers, employees, agents and other representatives from any and all loss, cost, damage, liability and expense (including, without limitation, attorneys fees and costs) arising out of, in connection with or related to the unauthorized use, dissemination or reproduction of any Image.
Originally posted on November 13th, 2017

Drew
Want to know more about Drew? Get their official bio, social pages & articles!