A Guy with No Arms Is Arrested For Managing to Stab Someone
A homeless guy in Miami with NO ARMS was arrested on Tuesday after he STABBED a tourist. How? He used his feet to pick up scissors after they had a confrontation and stabbed the guy twice in the arm. He was arrested.
There's a guy from Chicago who's going to get home from his vacation soon . . . tell his friends he got STABBED . . . and yet that's not even close to the most interesting part of what happened.
A 22-year-old guy named Cesar Coronado from Chicago was on vacation in Miami Beach this week. And on Tuesday night, he had a confrontation with a 46-year-old homeless street artist named Jonathan Crenshaw.
Jonathan says that Cesar sucker punched him . . . Cesar says he just asked Jonathan for directions . . . but either way, Jonathan grabbed some scissors, and then he STABBED Cesar two times in the left arm.
But here's the TWIST . . . Jonathan doesn't have ANY ARMS. He paints with his feet . . . and apparently he stabs with his feet too. Because he grabbed the scissors with his toes, stabbed Cesar twice, then used his feet to put the scissors in his waistband.
Cesar was taken to the hospital, and Jonathan was arrested.
(Here's his mugshot.)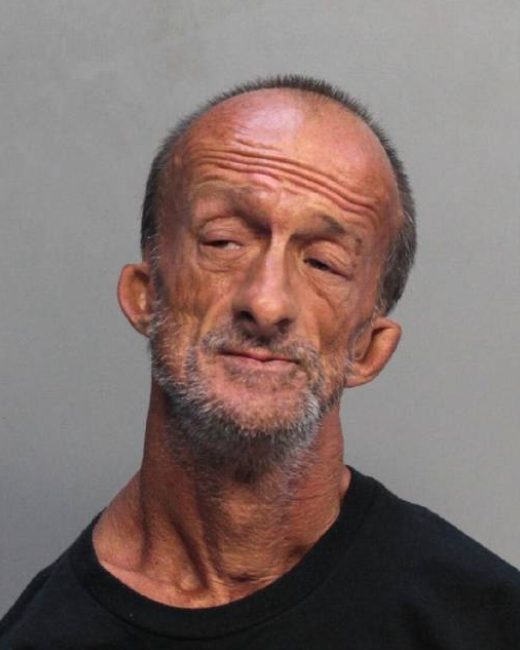 IMPORTANT LEGAL NOTICE ABOUT THESE IMAGES: All images (each, an "Image") are the property of their respective copyright owners and are archived here for editorial purposes only. No Image may be used, shared or reproduced for any purpose without the specific written permission of its copyright owner. No license to use, share or reproduce any Image is granted by us and any unauthorized use, dissemination or reproduction of an Image is at your own risk. You hereby indemnify Wise Brother Media, Inc. ("WBM") and its shareholders, directors, officers, employees, agents and other representatives from any and all loss, cost, damage, liability and expense (including, without limitation, attorneys fees and costs) arising out of, in connection with or related to the unauthorized use, dissemination or reproduction of any Image.
Originally posted on July 12th, 2018

Drew
Want to know more about Drew? Get their official bio, social pages & articles!