A Woman Had a Baby at Six Flags, and Now They Both Get Free Visits for Life
A woman in Georgia gave birth to a baby boy at a Six Flags waterpark on Monday. Now Six Flags is saying congrats by giving them both free visits for LIFE.
If we see a huge influx of heavily pregnant women at theme parks this summer, this is why . . .
A lady went into labor at Six Flags Over Georgia's "Hurricane Harbor" waterpark on Monday. So far, she's only been identified by her first name, "Crustina." (That's not a typo. Apparently her name's not Cristina . . . it's Crustina.)
It's not clear if she was there with her family or what . . . or if the labor was prompted by any wicked WATERSLIDES she went down.
But EMTs at the park helped deliver a baby boy named Matthew. And Crustina is doing great.
And now Six Flags is saying congrats by giving both of them "Diamond Elite Memberships" . . . which get them free visits to any Six Flags theme park for LIFE.
The park also released a statement wishing them a "lifetime of happiness, health, and many thrilling roller coaster rides together."
(Fox5Atlanta / Newsweek / Fox News)
(Here's a photo of Crustina and Matthew.)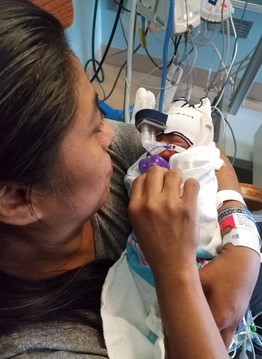 IMPORTANT LEGAL NOTICE ABOUT THESE IMAGES: All images (each, an "Image") are the property of their respective copyright owners and are archived here for editorial purposes only. No Image may be used, shared or reproduced for any purpose without the specific written permission of its copyright owner. No license to use, share or reproduce any Image is granted by us and any unauthorized use, dissemination or reproduction of an Image is at your own risk. You hereby indemnify Wise Brother Media, Inc. ("WBM") and its shareholders, directors, officers, employees, agents and other representatives from any and all loss, cost, damage, liability and expense (including, without limitation, attorneys fees and costs) arising out of, in connection with or related to the unauthorized use, dissemination or reproduction of any Image.
Originally posted on July 27th, 2018

Drew
Want to know more about Drew? Get their official bio, social pages & articles!