Guy Puts Up 300 Billboards to Apologize to His Girlfriend After Fight
A guy in India put up 300 billboards and banners all over his town last week to apologize to his girlfriend after a fight. We're not sure if she forgave him . . . but we know the cops are investigating and he might get charged with defacement of public property.
I'm not sure what this guy did to make his girlfriend upset, but it must've been MASSIVE.
There's a 25-year-old guy named Nilesh Khedekar who lives in western India. And last week, he got into a big fight with his girlfriend Shivde.
So on Friday morning, he put up more than 300 billboards and banners all over his town apologizing to her.
That's a hell of a gesture . . . but unfortunately, it's one that might get him in real trouble.
See . . . it's not like he PAID for those billboards. He just printed a bunch of signs and hung them up. So now the police are investigating, and it could lead to charges for defacement of public property.
And also, we have no idea if his stunt was enough to get his girlfriend to forgive him.
(Here's a picture of one of the billboards.)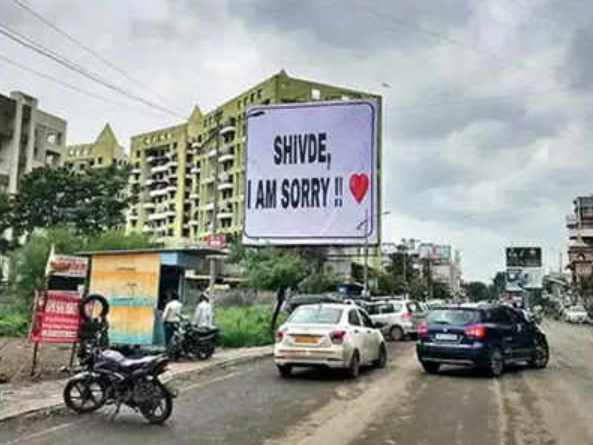 IMPORTANT LEGAL NOTICE ABOUT THESE IMAGES: All images (each, an "Image") are the property of their respective copyright owners and are archived here for editorial purposes only. No Image may be used, shared or reproduced for any purpose without the specific written permission of its copyright owner. No license to use, share or reproduce any Image is granted by us and any unauthorized use, dissemination or reproduction of an Image is at your own risk. You hereby indemnify Wise Brother Media, Inc. ("WBM") and its shareholders, directors, officers, employees, agents and other representatives from any and all loss, cost, damage, liability and expense (including, without limitation, attorneys fees and costs) arising out of, in connection with or related to the unauthorized use, dissemination or reproduction of any Image.
Originally posted on August 20th, 2018

Drew
Want to know more about Drew? Get their official bio, social pages & articles!